The Hotel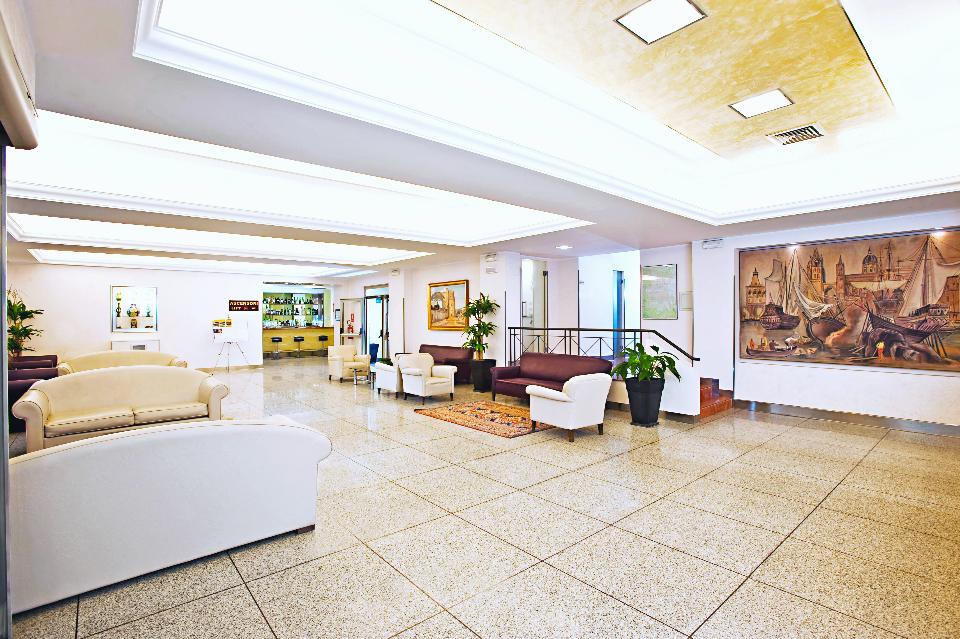 Hotel Mediterraneo offers 104 rooms, all with private bathroom, and equipped with telephone, hair dryer, LCD tv, air
conditioning, safe-deposit box, minibar and free wi-fi. 24h Private car park (until all available space is taken, not
bookable). Sound-proof rooms are also available. At our Reception, open 24h, it's possible to use our baggage room.
Hotel Mediterraneo offers 1 meeting room and a bar.
INFO BOOKING
It has no booking value, but only a request for availability.
You will be contacted for confirmation as soon as possible. Thank you!
Information on privacy policy
PREMISE This Privacy Policy is intended to describe the methods of processing your personal data during the management of the relationship (from now on "the relationship") that will occur between you (from now on the "Customer / User") and Hotel Mediterraneo SPA (hereinafter "the company"), as well as the purpose of describing the methods of processing your data in the activities operated by the company Hotel Mediterraneo SPA within the Internet sites (second and third level ), newsletters, forums and products / services (all of them hereinafter "Services") proposed by the company with reference to the related activities and purposes, for which it has provided its data, which each of these will operate. We inform you that the personal data you provide directly or indirectly, as well as processed by the company for the aspects represented in this statement, will also be processed for all relationships of various kinds that have arisen or that will arise as part of the relationship undertaken between you. and the company, in full compliance with the provisions of the Italian national legislation on privacy and, in particular of Legislative Decree 196/2003 and subsequent ones, and of the European legislation, and in particular of the European Regulation 679/16 and subsequent ones, containing provisions for the protection of persons and other subjects regarding the processing of personal data, based on principles of correctness, lawfulness and transparency to protect the confidentiality and rights of the Customer / User and third parties. The company informs that the data being processed may consist of textual information, photographic or video images, audio tracks, telephone users, company and personal data and any other information suitable for making the interested party identified or identifiable, within the of the relationship undertaken with the company. OWNER AND MANAGERS OF THE TREATMENT. For any information and to exercise the rights referred to in art. 15 of the GDPR 2016/679, reported below, the interested party can write to the data controller company: Hotel Mediterraneo S.P.A Via Rosolino Pilo, 43 90139 - Palermo (PA) 00105600829 PURPOSE OF THE TREATMENT. The data as provided above, in general, will be used by the company for the full and correct execution of the relationship and of the services and activities requested by the Customer / User. The treatment that the company intends to carry out also has the purpose of collecting, storing, processing, modifying the data being processed, including the interconnection of the same, to fulfill legal, accounting and tax obligations or other obligations required by the competent authorities. Authority, and to initiate communications relating to the performance of the relationship for the purpose of establishing and subsequent operational, technical and administrative management for everything undertaken with the company. We also specify that the purposes of the processing also concern the collection, storage and processing of data to perform statistical analysis in anonymous and / or aggregate form. Finally, the data may be processed, where the user has accepted the extended consent to the use of the same, for profiling, marketing and advertising promotion purposes in a broad sense, to provide information and / or make offers on products, services. o initiatives promoted by Hotel Mediterraneo SPA and / or by affiliated companies and / or in relationship with it, as well as by commercial partners and outsourcers, without this resulting in the transfer of personal data to third parties. COMMUNICATION AND DISCLOSURE OF DATA. The data as provided above will generally be made available to third parties for the defense of rights, as well as in fulfillment of the obligations established by law or regulations, and / or upon request made by the competent authorities. Furthermore, the company, in order to give completeness or correspondence to activities useful for its management, expressly informs that the data being processed may also be communicated to: - people, companies or professional firms that provide assistance and advice to the company in accounting, administrative, legal, tax, financial and credit recovery matters; - people, companies or professional firms that provide the company with products and / or services resold by the latter to the Customer / User; - subjects, bodies or authorities to whom the communication of personal data is mandatory by virtue of legal provisions or orders of the authorities; - subjects, bodies or authorities to whom the communication of your personal data is necessary to carry out activities strictly related to the provision of the Services; - subjects delegated and / or appointed by the company to carry out activities on its behalf, as well as support activities in general (eg operational, commercial partners, etc.). Therefore, the Customer / User will be aware that the data being processed may also be made public for
Choose to receive discounts, news and updates on promotions
The Customer / User, by accepting this "Extended Consent", in addition to the Privacy Policy, also gives consent to the sending of promotional and commercial communications by Hotel Mediterraneo SPA in relation to offers on products, services or initiatives offered or promoted by Hotel Mediterraneo SPA and / or by affiliated and / or controlled companies and / or in relationship with it, as well as by commercial partners and outsourcers, without this resulting in the transfer of personal data to third parties. The Customer / User gives his consent for the aforementioned purposes by authorizing Hotel Mediterraneo S.P.A to carry out the aforementioned activities even after the expiry of any relationship undertaken with the same and until the express will to the contrary.
SERVICES